Staff Bios

Bridget Ross
serves as Director for Prairie View A&M Small Business Development Center (PVAMU SBDC) where her responsibilities include helping business owners develop strategies, attracting customers, increasing sales and improving productivity and profitability, all at no cost to SBDC clients. Prior to joining PVAMU SBDC, she served as the Houston region loan officer for PeopleFund, a non-profit 501(c) (3), Community Development Financial Institution, based in Austin, Texas. Mrs. Ross was responsible for expanding PeopleFund in Houston, TX by developing partnerships, new client relationships and structuring loans that had community impact and community outreach. She also served as a loan officer for four years for ACCION, the nation's largest micro lender. Mrs. Ross has over 17 years of service in the financial industry serving as a regional vice president for a major financial institution, loan officer for a mortgage banker and currently as a Texas Realtor. She has served on several advisory boards in the Houston area and partners with many economic development corporations and Chambers of Commerce to help educate the business community in various fields as accounting, marketing, management and community development. Mrs. Ross received her Bachelor of Arts in Management of Human Resources from Southern Nazarene University in Bethany, Oklahoma.
---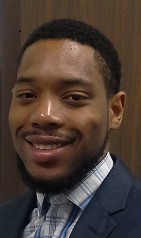 Michael McCarty, Veteran Outreach Coordinator for PVAMU SBDC, brings 5 years of work experience. His experience includes customer service, direct sales, and program planning. Mr. McCarty is a graduate of Prairie View A&M University with a Bachelor of Arts degree in Business Management. He is a member of Beta Gamma Sigma, an international Business Honor Society. He is currently pursuing his Masters in Sociology. With a background in both Business and Sociology, Mr. McCarty has a unique set of knowledge and skills that enable him to assist in community development, customer service, and the human relations aspect of business and entrepreneurs. Mr. McCarty has volunteered at several non-profits as well as volunteer many hours to the Waller County and Greater Houston area. With his passion to assist and see individuals and communities grow, Mr. McCarty is focusing his energy on the Veterans Program for the PVAMU SBDC to stimulate the veteran entrepreneur population in Waller and Grimes County.
For more information or to schedule a free confidential consultation please contact us!
936.261.9242.